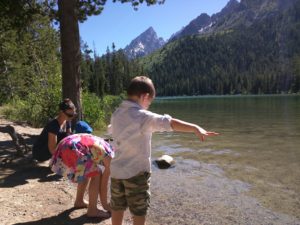 I recently happened upon Simon Sinek's Start With Why TED talk while I was reading Alex Turnbull and Groove's excellent startup blog. If you haven't seen the talk it is a very worthy 18m and this post won't do much for you without the context.
It took me very little time to get into the talk and reflecting on my own collection of whys. I'd like to summarize what it means for me as I write this.
I've built at least three products with a focus and a basecamp setup in the swamps of What. It's so much more work to communicate why someone should purchase from you in particular and to build trust when you start with making a thing that solves a problem.
I have an awesome new widget. It's better than ABC Co.'s widget because it has X and Y. It's also Z times bigger/smaller/faster/easier-to-use.
These claims are not credible on the face of them even if they are true. This is a big reason why testimonials and guarantees are so crucial for most smaller businesses. Often, as a marketer, I hardly believe myself in writing them.
Mr. Sinek's talk encourages the How portion of your work to be driven by why instead of what. You don't make a differentiated widget. You believe something about the world. People that believe what you believe should do business with you. This makes a tremendous amount of sense to me and it rings true emotionally.
I am an avid outdoorsman and I like to do business with Patagonia because I share the belief in the power and value of open wild places. I would rather pay more to do business with them because I know how they treat their employees and how they vet their suppliers.
Reading more about these ideas led me to B corps. I stumbled on an open letter by Ian Martin in reference to his decision that their company embrace this movement of harnessing business to do good for people, profit, and the environment. This meant a lot to me and I want to join the B corp movement with my next foray into business.
I think doing right by the environment and the people who work for you resonates deeply with my own sense of purpose. I'm utterly happy to project meaning and purpose where perhaps there is none.
I've long struggled with the products I've started as not really making much of a difference in the world. I thought myself too shallow to step away from tech and the lifestyle toward something that looks like non-profit work. I have family engaged in that work and I think I have some feel for it, but I have a different vision of what I want my life to look like.
This feels not only like a better path for my convictions, but also for my community and the environment. I'm still fashioning a coherent articulation of my own why for my currently in the shadows project, but I know that this absolutely connects to it. I think having a why and a conviction about what we're doing will materially impact the ceiling for where the business can go and the chances for success.
The B corp piece isn't a complete why in my mind. The product and the customers deserve to be included in there as well. I'm excited to pen the piece that outlines our B corp assessment and the details of our commitments and I hope that you will join the movement. Let's make things better one small moment at a time.